Biography:
Award winning photographer Beverly Benson Wolf is a lifelong Michigan resident. She has studied photography at the Paint Creek Center for the Arts, Oakland Community College, and with Darrell Gulin, George Lepp, Tim Grey, Rick Sammon, Ben Willmore, and Billy Turner, among others. Beverly has exhibited at the Oakland County Galleria in 2002, 2005 2006-07, and at "Creative Connections" sponsored by Dickinson Wright in Detroit. Beverly is a member of Waterford Friends of the Arts, Pontiac Photographic Society and the Greater Detroit Camera Club Council. A number of her works are exhibited at Firebrick Gallery in Rochester, Art In The Loft, in Alpena, and regularly in juried shows at Margot's Gallery in Oxford.
Beverly is honored to have been juried into the Governor's Residence Artist Program, with 5 pieces hanging in Governor Granholm's Residence between 2007 through 2009. Her work has been featured in The Oakland Press, and in The Detroit News. Bev was awarded Best In Show Large Color Print in the 73rd International Salon of Photography in Detroit, where her image competed against 256 other images from 6 continents. She has received several awards from the prestigious Scarab Club, and took first place with the Huron Clinton Metro Park System's nature photography contest, in southeastern Michigan. Additionally, she has had several one man shows and participated in several group shows, including The Galleria and The de la Ferriere Gallery in Oakland County, Michigan.
From the Artist: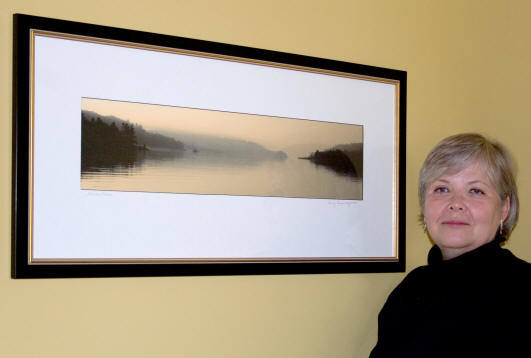 My love of art began as a 10-year-old child – completing the "Draw Me" contests in the back of magazines. I studied various art forms as a child at the Cranbrook Academy of Art and through my school I dabbled in clay and enamels. I wanted to grow up to be an artist. As an adult I completed two courses in sculpture at the Center for Creative Arts in Pontiac Michigan, but it was through my work in policing that I discovered photography and began my journey from monochrome images and creative darkroom techniques to my avocation – digital imagery. The artist I wanted to be as a child has finally emerged in the creativity of the digital darkroom.
My subjects range from botanicals, particularly orchids and wildflowers, to landscapes and the views I've enjoyed while sailing the North Channel of Lake Huron. Water, whether by its movement, water falls, seascapes, or through its reflections, is a never-ending source of inspiration. Architecture and minutia often provide fascinating graphic abstracts. Animals, birds, and insects bare the qualities of camouflage, survival, and life. Still life provides a sense of tranquility, a time to reflect, and a time to relax. The seasons all provide their own special beauty. Whether captured in color, or monochrome, our world is best viewed through many perspectives. If there is a subject you'd like to explore, please contact me at BevWolf@BBWolfFineArtPhotography.com. If I have an appropriate image, I'll be happy to share it with you.
I hope you enjoy this sampling of my images.